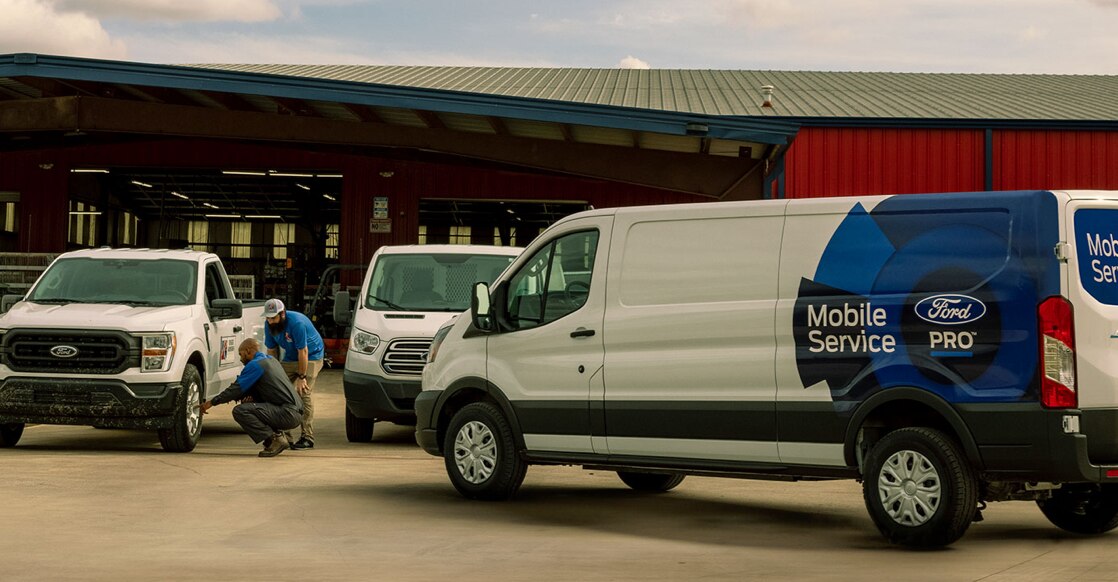 Ford Pro Service Center Colorado
Get Your Ford Fleet Serviced at Columbine Ford
Keeping your Ford fleet on the road keeps your business running. That's why our team here at Columbine Ford is taking the difficulty out of your maintenance and services with multiple solutions so you can minimize your downtime and always keep your fleet powered and productive. Below we will go over all the ways we can help fix your Ford work vehicles and all our services. Once you are done reading, schedule your service by filling out a form on our website!
Always at Your Service
At Columbine Ford, we make fixing your Ford work vehicle easy and get you back out on the job! Plenty of convenient service options are available to you no matter where you are in the country. That way, you can quickly get your vehicles the care they need so that they keep working for you. For starters,  there is a mobile service that will maximize efficiency by having a service van come to your job site or wherever you are, and they can service multiple vehicles at the same time. In addition, Ford is continuing to add mobile units throughout the country, so getting service is even more convenient. You can also choose from a nationwide network of Commercial Vehicle Centers offering unique tools and specific assistance with large service hubs and long hours to get your vehicles back to work sooner.
Competitive Pricing
If you are worried about pricing, Ford Pro Maintenace Service provides transparent and consistent pricing for 12 maintenance and certain light repair services such as oil changes, wiper blade replacements, fluids changes, tire changes, and more! In addition, fleets of 50 or more vehicles can be eligible to receive competitive pricing on Ford parts from dealers like us here at Columbine Ford! Find out if your fleet qualifies by giving our team a call today. Over 800 certified technicians are out on the road that will come to you, making these routinely scheduled maintenance visits not only easy but an excellent way to save on further headaches by keeping your Ford fleet happy and healthy.
Coverage When You Need It
When you need to manage a fleet, peace of mind is essential. With the Ford Protect Extended Service Plan, you will provide yourself with coverage for the miles down the road. You will also get customer service for all of those miles down the road, and you can also get spectacular customer service that's there for all of your unexpected twists and turns. We also need to mention that we can keep track of your vehicle's progress and provide updates on all of your care and repairs if your vehicle needs to be repaired for a long time. This feature is coming soon to Colorado!
Get Ford Service at Columbine Ford
If you need service for your Ford commercial vehicle or any other Ford, then be sure to head down to Columbine Ford, where our dedicated service team will be more than happy to provide you with an oil change, tire rotation, fluids change, or something more substantial! Trust us when we tell you that with our many years of experience, you won't want to take your Ford anywhere else! So schedule your service today by filling out a service form
here on our website
! We look forward to working on your vehicle here at Columbine Ford!