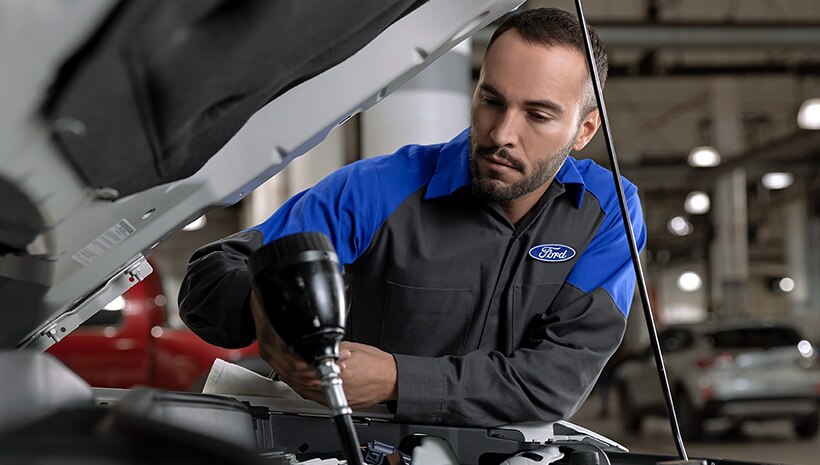 Ford Oil Change Center Colorado
Regular oil and filter changes are significant to the life of your engine. That's because the right oil helps keep your vehicle's engine clean, reduces overall wear, and maximizes its performance. But how do you know when you need an oil change. You can check your vehicle's owner's manual to its scheduled maintenance intervals at the recommended mileage. It will help ensure that oil changes are done before any engine damage can occur.
What is the purpose of motor oil?
The primary purpose of motor oil is to lubricate all of the moving metal pieces inside your vehicle's engine. Many different components make your engine work, and the oil helps them turn smoothly while minimizing friction and reducing component wear. Oil also aids in helping cool down your engine by absorbing heat before traveling back to the oil pan and dispersing some of the heat. And motor oil helps to clean your engine as well. It is equipped with additives that prevent the buildup in your engine and help prevent sludge.
When should I get an Oil Change?
Generally speaking, if your Ford is a 2008 or newer, it is recommended to change your oil every 7,500 miles or every six months, whichever comes first. For 2007 and older vehicles, Ford recommends an oil change every 5,000 miles or every six months, whichever comes first. Another way to keep track is by watching the oil monitor message on your dashboard. Many newer Fords come equipped with an Intelligent Oil-Life Monitor. This system will advise you when it's time for an oil change.
Why should I get my oil changed at a Ford dealership?
When you have your oil changed at a Ford dealer, you don't just get an oil change. You get The Works. Ford "The Works" package includes a synthetic blend oil change, tire rotation, brake inspection, top-off fluids, test your battery, check belts/hoses, and inspecting filters. All of which is performed by a Ford certified technician. Plus, when you visit Columbine Ford, you get all of these for a very competitive price.
Oil Change at Columbine Ford
It is possible to change the oil of your vehicle at your home. However, today's hi-tech vehicles can be challenging. Oil changes may seem simple, but they require up-to-date knowledge of a vehicle's engine and its specs. Columbine Ford has all the right parts, tools, and techs to help ensure your service is done the first time correctly. It is a fast and straightforward process when you schedule an oil change with Columbine Ford. Plus, you'll enjoy the comfort of relaxing in a clean, comfortable waiting room with free Wi-Fi and refreshments.
Columbine Ford wants to help you keep your vehicle running in showroom shape!
The Ford Service Center at Columbine Ford wants to help you keep things running smoothly no matter the age or make of your vehicle. Our technicians have been factory trained and certified, so they are ready to help you any way they can. You will receive more than just an oil change when you have your oil changed with us. You receive a complete vehicle checkup that includes a synthetic blend oil change, tire rotation and pressure check, brake inspection, Multi-Point Inspection, fluid top-off, battery test, filter belts, and hoses check. Drivers in the Rifle CO area have been counting on Columbine Ford for years to ensure they have a pleasant driving experience for every single mile of your lease or ownership.