What are the Advantages of Genuine OEM Ford Parts?

Why do dealerships like Columbine Ford urge their customers to use Ford OEM parts over aftermarket parts? When you bring your Ford vehicle to our service center, our certified technicians will use only genuine OEM Ford parts, but we also recommend that drivers from Glenwood Springs and beyond use OEM parts for their own part orders. Discover the difference between OEM Ford parts and aftermarket parts with this guide from our parts department.
---
Ford OEM Parts vs. Aftermarket Parts: What's the Difference?
Who Makes Them?
OEM stands for Original Equipment Manufacturer, which means that every single Ford OEM part that you buy is guaranteed to be made by the same folks who built your car.
Aftermarket Parts, on the other hand, are manufactured by third party, large companies. Because of this, these companies don't work on one particular brand, so you can see a difference in quality and lifespan.
For What Models?
With an OEM part from Ford, you can rest easy knowing each part is specifically design and crafted for your particular model. That way, each part is a genuine fit, each and every time.
Aftermarket parts are built to service a wide range of vehicles, meaning your Aftermarket part won't be as perfect, or long lasting, of a fit on your Ford model. Though they are built to service a larger market, they lose their specificity.
---
Why Choose Ford OEM Parts?
Now that you understand the main distinctions between OEM Ford parts and aftermarket parts, you're likely getting a sense of why authentic Ford parts are the superior option. Grand Junction drivers should also consider the following:
Quality: Since Ford OEM parts are made by Ford, you have the assurance that the quality matches that of your vehicle. The same can't be said for aftermarket parts, as they're often made with inferior materials.
Performance: Since they're made specifically for your Ford model, Ford OEM parts boast a perfect fit, which results in excellent performance. Given that aftermarket parts are meant to fit into a wide range of vehicles, they likely won't function as well as Ford parts.
Selection: Vast selections often make choosing the right part very confusing, which is the case with aftermarket parts. A visit to the Columbine Ford parts department, however, means you'll get exactly what you need without any guesswork. 
Warranty Coverage: All genuine Ford parts come backed by a 2-year/unlimited-mileage warranty, and they also ensure that you remain within the limits of your vehicle's warranty coverage. Aftermarket parts, though, may void that warranty coverage.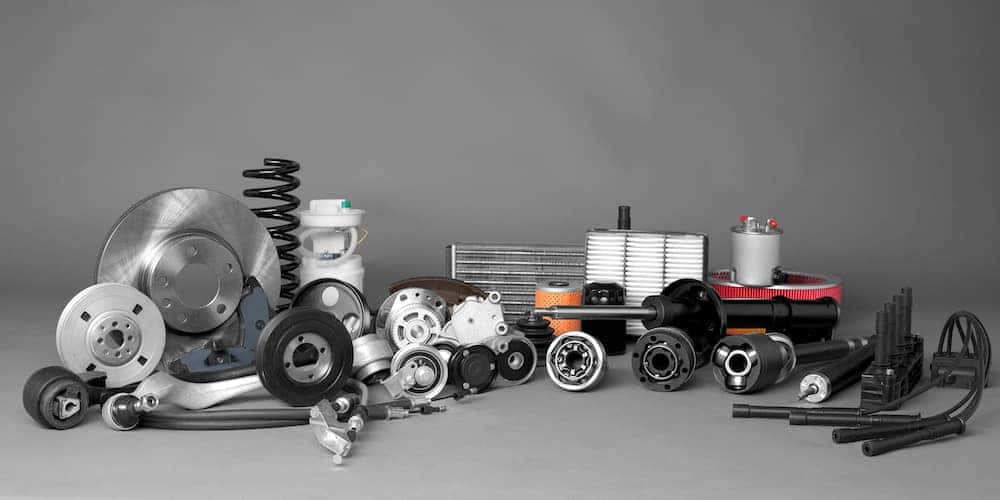 Source Your Ford Parts From Columbine Ford!
Columbine Ford serves as your-go to for Ford parts in the Craig area. Schedule a service appointment with us if you need a part replaced, and make sure to check out our parts specials to find out how you can save. Have any questions? Contact us today!
---
Auto Parts Specials in Rifle
We are currently updating our Specials. Please check back soon.