10 Picturesque Trips in Colorado
Summer has arrived and now is the perfect time to take a road trip to one of these ten picturesque locations in Colorado.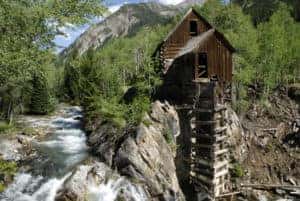 Pearl Lake State Park- Pearl lake state park is nestled in the mountains near Steamboat Springs, this park sits in a quiet lakeside setting. It Overlooks Farewell Mountain, you can camp along the shoreline or a ridge with amazing views. Two yurts are available for year-round rental.
Rifle Falls State Park- Located outside of Rifle, Colorado is Colorado's only 80-foot triple waterfall. You can explore through limestone caves or pitch a tent for a nice relaxing weekend.
Grand Mesa National Forest- The Grand Mesa National Forest is on the world's largest flat-topped mountains with it's Lands End Overlook, which sits 6,000 feet above the valley and takes in views from as far as the Sneffels Range near Ridgeway. The Grand Mesa National Forrest is easily accessible from Grand Junction, Colorado.
Crystal Mill- The Crystal Mill also known as the Old Mill is an 1892 wooden powerhouse located on an outcrop above the Crystal River in the ghost town of Crystal Colorado. The Crystal Mill is one of the most photographed sites in Colorado, so bring your camera and a picnic.
Bridal Veil Falls- The Bridal Veil Falls are the tallest free-falling falls in Colorado located near Telluride, Colorado right along the box canyon. With a height of 365 feet, these falls encourage visitors and adventurers alike to hike, bike, four-wheel drive or ice climb the surrounding area.
Hanging Lake- Hanging Lake is a short drive from Glenwood Springs, Colorado and is a Colorado treasure and a rare example of a travertine geological formation. The trail is a steep 1.2 miles, this hie is rigorous but rewarding. Make sure to visit www.visitglenwood.com in order to reserve your Hanging Lake permit, without a permit, you cannot visit this awe-inspiring site.
Painted Wall Black Canyon National Park- The Painted Wall is located within the Black Canyon National Park near Montrose, Colorado. The Painted Wall is the highest cliff in Colorado. From river to rim it is 2250 feet! Compare that to the Tokyo Sky Tree in Tokyo Japan the tallest observation tower in the world stands at only 2,080 feet!
Trappers Peak is one of the tallest peaks in the Flat Tops of Colorado, at 12,002 feet, it's the sixth-tallest peak in the Flat Tops. The Flat Tops are made of volcanic rock from an ancient eruption that occurred several million years ago. You can access Trappers peak by driving north of Meeker along highway 13.
Marron Bells- The Marron bells happen to be one of the most photographed mountains in North America. The Marron Bells is a series of distinctively bell-shaped, wine-colored peaks outside of Aspen, Colorado. You will find vibrant meadows full of wildflowers that will delight your senses.